Native American Studies Model Curriculum
A Statewide Partnership Effort Funded through the California Department of Education
Give feedback for the creation of the NASMC or describe how you'd like to partner with us!
The Native American Studies Model Curriculum (NASMC) is defined as lesson plans, primary source documents, planning resources, teaching strategies, and professional development activities to assist educators in teaching about Native American studies. The Humboldt County Office of Education and the San Diego County Office of Education have been selected as lead agencies in the development of the NASMC.  By design, the model curriculum will be developed in partnership with California Tribes, other COEs, and native youth serving organizations. HCOE serves regions 1-3 as noted in map below.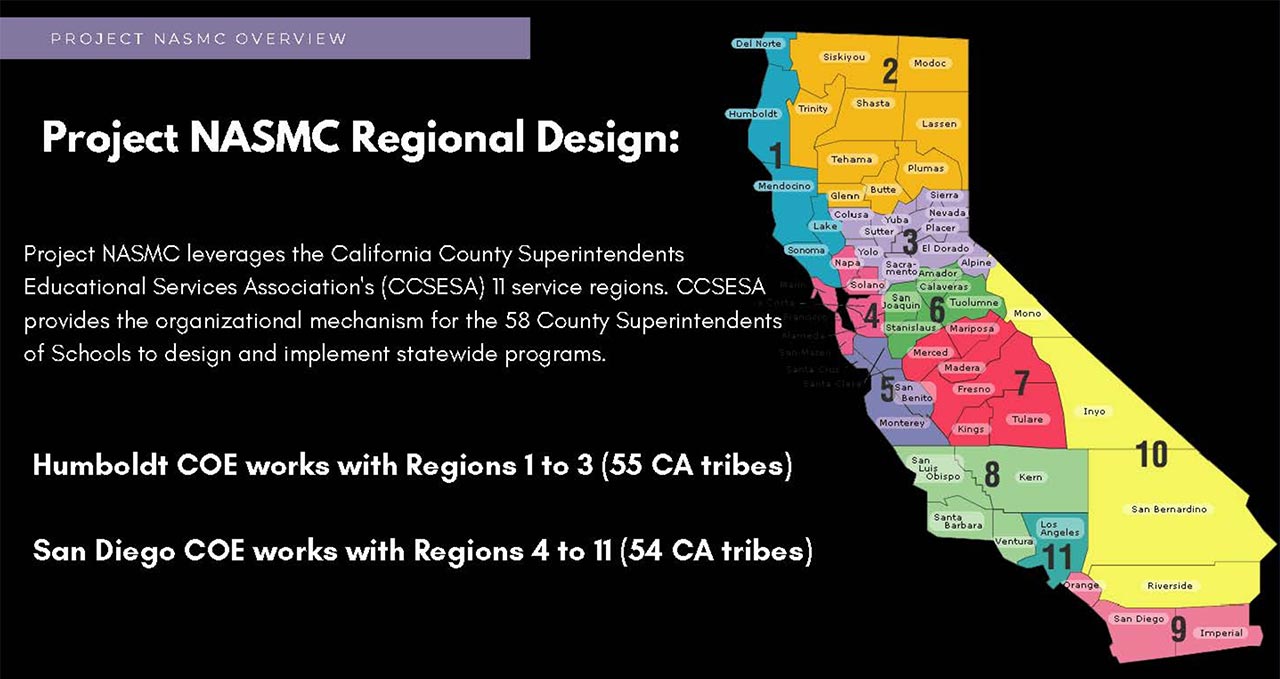 AB 167 Model Curriculum Projects
Assembly Bill 167, Chapter 252, Statutes of 2021 amended California Education Code sections 33540.2, 33540.4, 33540.6 and 51226.9, for the development and maintenance of model curricula relating to the Vietnamese American refugee experience, the Cambodian genocide, Hmong history and cultural studies, and Native American studies. The California Department of Education shall, in collaboration with, and subject to the approval of, the executive director of the state board, enter into contracts with county offices of education for the purposes of developing a model curriculum. Work on these projects will begin in 2022 and conclude by September of 2025.
Please continue to return to this page as information will be posted as the project progresses.  Feel free to reach out to Colby Smart, HCOE Assistant Superintendent with questions about the NASMC project.
Colby Smart, Ed.D
Assistant Superintendent of Educational Services
Humboldt County Office of Education
Tel: 707.441.4502
Email: csmart@hcoe.org
Jack Bareilles
NASMC Grant Reporting
Northern Humboldt Union High School District
Tel: 707.839.6470
Email: jbareilles@nohum.k12.ca.us
Cutcha Risling Baldy, Ph.D.
NAS Department Chair and NASMC Lead Scholar
Cal Poly Humboldt
Tel: 707.826.4322
Email: 
crislingbaldy@humboldt.edu
Rebecca Lowry, MSW
Native American Learning Specialist
Humboldt County Office of Education
Tel: 707.582.2175
Email:  rlowry@hcoe.org
Maggie Peters
Native American Learning Specialist
Humboldt County Office of Education
Tel: 707.845.6960
Email:  mpeters@hcoe.org
NASMC Project Resources
General Resources
Community Engagement Listening Sessions
The Humboldt County Office of Education will host several virtual and in-person NASMC Community Engagement Listening Sessions in Northern California. Perspectives and voices of California tribal community members, Native American youth, educators, and cultural bearers will lead the development of NASMC.
During NASMC Listening Sessions, participants will: 
Learn about goals and potential outcomes of the NAS Model Curriculum
Discuss their hopes for the NAS Model Curriculum
Provide feedback on potential curriculum topics and current educational resources

 
For more information or to RSVP for Listening Sessions, contact:
Rebecca Lowry, MSW
Native American Learning Specialist
Humboldt County Office of Education
Tel: 707.582.2175
Email:  rlowry@hcoe.org
Virtual Listening Sessions
Tuesday, February 28, 2023
6:00-7:30pm
Wednesday, March 22, 2023
6:00-7:30pm
In-Person Listening Sessions
Thursday, March 9 • 3:30-4:30pm
Round Valley Elementary School Cafeteria
Airport Road, Covelo, CA 95428
Friday, March 10 • 1:30-2:30pm
Mendocino College Library & Learning Resource Center
1000 Hensley Creek Road, Ukiah, CA 95482
Monday, March 13 • 6:00-7:30pm
Carson Block Theater (NCIDC)
517 Third St, Eureka, CA 95501
Tuesday, March 14 • 6:00-7:30pm
Tribal Justice Center (Blue Lake Rancheria)
"Big Room" upstairs
1 Aee ye Kwee Loop, Blue Lake, CA 95525
Thursday, March 16 • 6:00-7:30pm
Del Norte County Office of Education Board Room
301 W Washington Blvd, Crescent City, CA 95531
Dinner and childcare provided by DCOE
Tuesday, March 28 • 6:00-7:30pm
CA Indian Museum and Cultural Center
5250 Aero Drive, Santa Rosa, CA 95403
Wednesday, March 29 • 6:00-7:30pm
Seavey Center, Rm 101
655 Menlo Drive, Rocklin, CA 95765
Thursday, March 30 | 9am-4pm*
One-on-one discussions and surveys
Butte College Big Time
3536 Butte Campus Drive
Oroville, CA 95963
Friday, March 31 | 12-1:30pm
Woodfords Indian Education Center
96B Washoe Boulevard
Markleeville, CA 96120
Saturday, April 1 • 12:00-2:00pm
Fort Bidwell Indian Community
130 ME-Thee-Uh Rd
Fort Bidwell, CA 96112
Monday, April 3 | 5:30pm-7pm
Community Resource Center
Susanville Indian Rancheria
735 Joaquin St, Susanville, CA 96130
Wednesday, April 5 | 5:30pm-7pm
Happy Camp Wellness Center
Happy Camp, CA
Saturday, April 8 | 11am-6pm*
Drop-in at table for one-on-one discussions/surveys
Big Time, Cal Poly Humboldt West Gym
Arcata, CA 95521