← Back to Listings
Writing and Reading Educator Network (WREN)
Date(s)
Monday, Nov 13, 2023
Presenter(s)
Maikken Bass and Roseann Buchner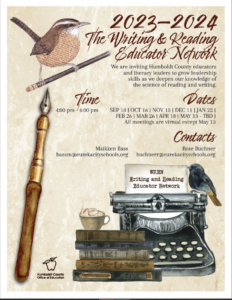 Are you a Humboldt County Teacher, Instructional Coach or Administrator who is passionate about literacy education in Humboldt County?
Join our group of passionate fellow educators from around Humboldt County to delve into current research-based practices for reading and writing grounded in the Science of Reading. Here you will continue to grow into your role as a site and local literacy leader and develop your leadership and presentation skills.
The Writing and Reading Educator Network (WREN), formerly known as the Science of Reading Network Improvement Community, meets monthly on Google Meets starting September 18th.
For more information, please contact Maikken Bass at bassm@eurekacityschools.org or Rose Buchner at buchnerr@eurekacityschools.org
Meeting Dates:
Sept 18
Oct 16
Nov 13
Dec 11
Jan 22
Feb 26
Mar 26
Apr 18
May 13