← Back to Listings
Project WET Curriculum Training
Date(s)
Saturday, Sep 30, 2023
Sponsor
Blue Lake Rancheria, California Department of Water Resources & Project Wet
Project Wet Workshop: Climate Change & California Water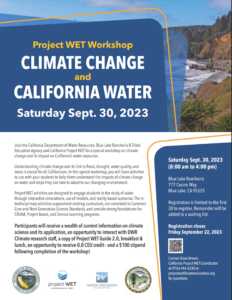 Saturday, September 30, 2023
Join the California Department of Water Resources, Blue Lake Rancheria & Tribal Education Agency and California Project WET for a special workshop on climate change and its impact on California's water resources.  Understanding climate changes and its link to flood, drought, water quality, and more is crucial for all Californians.
In this special workshop, you will learn activities to use with your students to help them understand the impacts of climate change on water and steps they can take to adapt to our changing environment.  Project WET activities are designed to engage students in the study of water through interactive simulations, use of models, and reality-based scenarios. The interdisciplinary activities supplement existing curriculum, are correlated to Common Core and Next Generation Science Standards, and provides strong foundations for STEAM, Project-Based, and Service-Learning programs.
Participants will receive a wealth of current information on climate science and its application, an opportunity to interact with DWR Climate research staff, a copy of Project WET Guide 2.0, breakfast & lunch, an opportunity to receive 0.8 CEU credit – and a $100 stipend following completion of the workshop!
This training is being paid for by our BIA Climate Adaptation grant and goes along with our Agriculture and Natural Resources career pathways focus for our Native American Career and Technical Education Program (NACTEP), our BIA – Tribal Climate Resilience Program, our California Air Resources Board Air Quality Monitoring curriculum, and the work we've been doing with Save CA Salmon for their Water Protector curriculum, as well as HCOE's Steelhead in the Classroom Program. Free curriculum and training for grades 3-12 teachers interested in incorporating climate change curriculum into their lesson plans.
Lunch and snacks are included for teachers. Registration is limited to the first 30 to register. Remainder will be added to a waiting list. Registration closes Friday, September 22, 2023.
For more info, visit www.watereducation.org
Emily Alejandrino, California Department of Water Resources
Phone 916-902-6997
Email emily.alejandrino@water.ca.gov (preferred contact)
Brian Brown, California Project WET Coordinator
Phone 916.444.6240 ext. 208
Email projectwet@watereducation.org