← Back to Listings
HERC Resource Orientation
Date(s)
Tuesday, Sep 26, 2023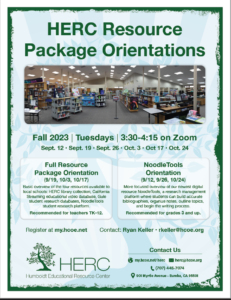 There are two options available, each with multiple dates to choose from:
HERC Resource Full Package Orientation
Basic overview of the 4 resources available to local schools: HERC library collection, California Streaming educational video database, Gale student research databases, NoodleTools student research platform. Recommended for teachers TK-12.
Dates: 9/19, 10/3, 10/17
NoodleTools Orientation
More focused overview of our newest digital resource NoodleTools, a research management platform where students can build accurate bibliographies, organize notes, outline topics, and begin the writing process. Recommended for grades 3 and up.
Dates: 9/12, 9/26, 10/24