← Back to Listings
Developing Numerical Fluency
Date(s)
Thursday, Jan 20, 2022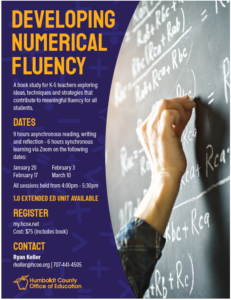 This book study for K-5 teachers will explore ideas, techniques and strategies that contribute to meaningful numerical fluency for all students.  A unit of extended education credit is available for participants who complete the following: 9 hours of asynchronous reading, writing, and reflection, and 6 hours synchronous learning via Zoom on the following dates:
January 20
February 3
February 17
March 10
All sessions held from 4:00pm – 5:30pm
1.0 EXTENDED ED UNIT AVAILABLE
Cost: $75 (includes book)
Please register by January 12 if you would like the book delivered through your school's courier service.
Register for this event
Registration is closed for this event.