← Back to Listings
Crisis Prevention Institute's Nonviolent Crisis Intervention Online & In-Person Blended Training
Date(s)
Wednesday, Nov 1, 2023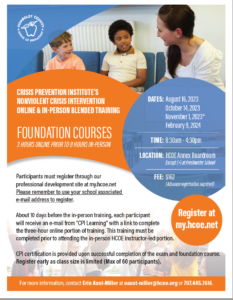 Foundation Courses: 3 Hours Online Prior to 8 Hours In-Person
Participants must register through our professional development site at my.hcoe.net.
Please remember to use your school associated e-mail address to register.
About 10 days before the in-person training, each participant will receive an e-mail from "CPI Learning" with a link to complete the three-hour online portion of training. This training must be completed prior to attending the in-person HCOE instructor-led portion. CPI certification is provided upon successful completion of the exam and foundation course.
Register early as class size is limited (Max of 60 participants).
For more information, contact Erin Aust-Miller at eaust-miller@hcoe.org or 707.445.7616.