← Back to Listings
California Health Education Framework Professional Learning
Date(s)
Monday, Oct 19, 2020 - Thursday, Oct 22, 2020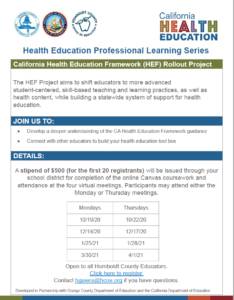 New California Health Education Framework Professional Learning (*$500 stipend for participation and no charge to register!) 
Join us for a four part CA Health Education Professional Learning Session introducing the new 2019 California Health Education Framework.  The Framework offers up to date, relevant guidance on the Why, What, and How of teaching comprehensive health education in grades K-12.  Research clearly demonstrates that healthy students are better learners.  Now more than ever, we have a responsibility to improve the health literacy of our students so they can lead healthy lives that support their learning now, as well as ensure they are college, career, and life ready.  
Health Education builds the knowledge and the skills of students around positive physical and mental health behaviors, healthy social emotional skills, as well as evidence-based trauma healing and stress reduction strategies. 
Health Education content includes: nutrition & physical activity; growth, development, & sexual health; violence prevention & safety; tobacco & substance use prevention; mental & social emotional health; and personal & community health  
Audience: Teachers, Instructional Aides, Para-educators, School Nurses, Counselors, and Administrators supporting health education, Community Health Educators working in schools
HCOE Registration Link: access to the online course and virtual meeting will be shared after your registration is confirmed.
Four Asynchronous Learning Modules (between 1-3 hours each)
At your convenience, complete the

CA Health Education Framework Online Course

. 

Complete the survey at the end of each module, which will auto-generate a Certificate of Completion that will be emailed directly to you. 
Four Community Learning Virtual Synchronous Meetings
Join us on either the Monday or Thursday meetings from 3:30 pm – 4:30 pm
| | |
| --- | --- |
| Mondays | Thursdays |
| 10/19/20 | 10/22/20 |
| 12/14/20 | 12/17/20 |
| 1/25/21 | 1/28/21 |
| 3/29/21 | 4/1/21 |
Meeting Objectives: 

Engage in a discussion around Humboldt County data and health related initiatives 

Reflect on available health education resources  

Apply the learning to your current work   

Connect with other educators through peer to peer sharing and discussion 
To receive your $500 stipend, register using the HCOE link, complete the four Online Course modules and surveys at the end to receive your certificates, forward the email with your certificate to Heather Gaiera at HGaiera@HCOE.org , and attend four virtual meetings.  Your stipend will be paid through your school district.
*Note: stipends are only available to the first 20 participants who must have a valid county office of education/district/school email address.  Only Humboldt County educators are eligible for the stipend.  Community health educators are welcome to participate, but cannot receive the stipend. 
Please select "No charge" in the drop down menu.
Register for this event
Registration is closed for this event.