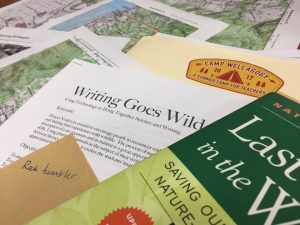 Today I was at my awesome new standing desk doing some research for an upcoming workshop series in collaboration with our Redwood Writing Project about Place Based Learning.  In one hand I had my copy of Last Child in the Woods, littered with sticky notes marking all the good things I had forgotten since I read it almost ten years ago.  In a nearby pile were copies of the four quadrants of a topographical map of Arcata that I had printed for free from National Geographic.  In front of me my folder for Camp Wellagogy beckoned me (my new pet project for inspired professional development).  Everything in front of me looked like fun.
I often find myself looking for ways to justify "fun" in education. As it turns out, as I was searching online for resources for the workshop that starts tomorrow, an article I wrote for the Digital IS website came up in the results.  I wrote it about four years ago and reading it with fresh eyes reminded me that it's okay to have fun.  It also made me really miss my students <3
From National Writing Project Digital IS
Validating Fun: Connected Learning
By Rosie Slentz

Just when I was feeling pretty tech-savvy, I volunteered to be the liaison for National Writing Project's Connected Learning MOOC (#CLMOOC)…
And that, THAT, was the end of my naive competence. Immediately I was signing up for blogs, Google + hangouts, webinars, and getting emails from that weird hashtagged acronym that put images of cows in my head. What was a MOOC, anyway? I googled it. It is a massive open online course, and in this case it was facilitated by 7 members of the NWP community. Well I fell right in and followed links down rabbit holes for weeks. I shared the resources with the Summer Institute of our local Redwood Writing Project and I pretended to know what "connected learning" was all about.
I viewed my first Google + hangout, watching Troy Hicks discuss his experiences with digital media. I bookmarked the "make bank" and led lessons for peer educators at our Summer Institute (including a very fun toyhack). By August when I began planning another year of curriculum for my 5th grade class, I realized that I had been doing "connected learning" all along–but in secret.
This new buzz word, connected learning, has validated my practice. I think back to times when I would manipulate the daily schedule so that we could take a hike to the forest during PE time. It was easier to explain the departure from desk work that way. I would justify our time spent creating videos by focusing on the useful tech skills my students were practicing.
But now I frame my lessons around this hidden value. Students are learning to apply writing workshop practices to their video editing and I recognize and herald the fact that a hike, is so much more than a hike.
Part of my recent tedx talk is about an experience my class had while on an excursion to a nearby stream. The kids decided to make boats. They were so excited and proud to present them to me. The moment they put them in the water, however, the vessels flopped over to their sides and swirled to the bank of the stream. From a distance I watched my students form into groups, based on skills they deemed necessary for each boat building guild. The huddles dispersed and students scrambled off on their own, returning shortly with gobs of sap, ivy to use as rope, thinner bark, and bigger leaves. Again their heads and hands went together and parted. This time they faired better than the maiden voyage, but the 10 year olds were not satisfied until they had reworked their creations yet again. It dawned on me that this was the type of behavior, the habit of mind, that I had been trying so hard to develop in our writers workshops. Later we used this boat building experience to talk about how we build and revise our writing, with the help of our peers.
Sometimes the most important learning, has nothing to do with academics. It's about nurturing 21 unique little souls in the classroom. Our trophy making project required students to write about why they deserved a trophy. Then they collected bits and pieces of broken toys and we painted everything gold. The next step was to build the trophy base. Bringing a handsaw to class did more for the self-esteem of a student than any praise I had bestowed. He didn't need to be told his value. He needed to feel it. "Let me help," he offered, as his classmate struggled to saw through a 2×4. "I'm good at this kind of stuff…like my dad."
So on any given day my 5th grade lesson plan might include: toy hacks, video making, field trips, action plans, tea time, hikes, painting, trophy making, sachet sewing, contra dancing, boat races, and fun. Yes, fun. I'm not afraid to admit it anymore. Sometimes we have fun. Afterwards we take a moment and reflect. More often than not, we can connect our experience to learning. And that, is when the learning sticks.