← Back to Listings
Two Feathers Training 2022 – No Such Thing As A Bad Kid!
Date(s)
Tuesday, Dec 13, 2022
Presenter(s)
Charlie Appelstein
Sponsor
Two Feathers Native American Family Services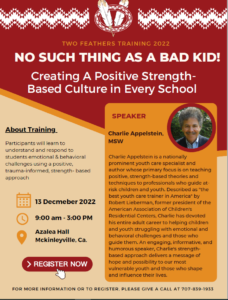 Speaker: Charlie Appelstein, MSW
Charlie Appelstein is a nationally prominent youth care specialist and author whose primary focus is on teaching positive, strength-based theories and techniques to professionals who guide at-risk children and youth. Described as "the best youth care trainer in America" by Robert Lieberman, former president of the American Association of Children's Residential Centers, Charlie has devoted his entire adult career to helping children and youth struggling with emotional and behavioral challenges and those who guide them. An engaging, informative, and humorous speaker, Charlie's strength-based approach delivers a message of hope and possibility to our most vulnerable youth and those who shape and influence their lives.
About the Training:
Participants will learn to understand and respond to students emotional & behavioral challenges, using a positive, trauma-informed, strength-based approach.
For more information or to register, please call 707-839-1933