← Back to Listings
Teacher Resources From Your HERC Library
Date(s)
Wednesday, Jan 25, 2023
Presenter(s)
Sandy Gonnerman
Buried Treasure for Educators at Your HERC!
\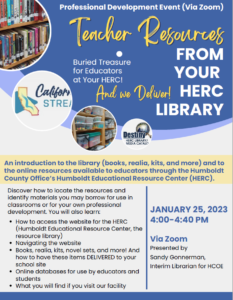 An introduction to the library (books, realia, kits, and more) and to the online resources available to educators through the Humboldt County Office's Humboldt Educational Resource Center (HERC).
Discover how to locate the resources and identify materials you may borrow for use in classrooms or for your own professional development.
You will also learn:
How to access the website for the HERC (Humboldt Educational Resource Center, the resource library)
Navigating the website
Books, realia, kits, novel sets, and more! And how to have these items DELIVERED to your school site
Online databases for use by educators and students
What you will find if you visit our facility
Register for this event
Registration is closed for this event.