← Back to Listings
Restorative Practices for Educators : 2/11 and 2/18
Date(s)
Friday, Feb 11, 2022
Presenter(s)
Peter Stoll, Julia Leonard, Marci Zeppegno
Contact
mzeppegno@hcoe.org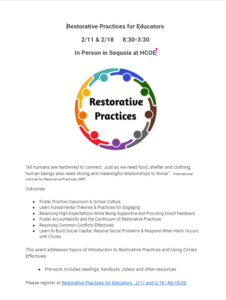 Two Sessions: 2/11 and 2/18 –  Must attend both 
"All humans are hardwired to connect. Just as we need food, shelter and clothing, human beings also need strong and meaningful relationships to thrive." –International Institute for Restorative Practices (IIRP)
Outcomes:
Foster Positive Classroom & School Culture

Learn Fundamental Theories & Practices for Engaging

Balancing High Expectations While Being Supportive and Providing Direct Feedback

Foster Accountability and the Continuum of Restorative Practices

Resolving Common Conflicts Effectively

Learn to Build Social Capital, Resolve Social Problems & Respond When Harm Occurs with Circles
This event addresses topics of Introduction to Restorative Practices and Using Circles Effectively.
On two successive days, participants will engage in 6 hours of in-person sessions (breaks included).
Pre-work includes readings, handouts, videos and other resources. 
Two Sessions: 2/11 and 2/18 –  Must attend both 
Register for this event
Registration is closed for this event.