← Back to Listings
Humboldt County Math Educators Collaborative
Date(s)
Monday, Oct 16, 2023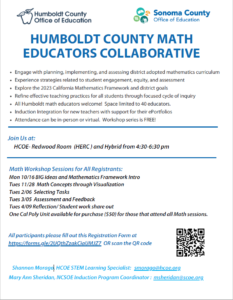 Engage with planning, implementing, and assessing district adopted mathematics curriculum
Experience strategies related to student engagement, equity, and assessment
Explore the 2023 California Mathematics Framework and district goals
Refine effective teaching practices for all students through focused cycle of inquiry
All Humboldt math educators welcome!
Space limited to 40 educators.
Induction Integration for new teachers with support for their ePortfolios
Attendance can be in-person or virtual
Workshop series is FREE!
Join Us at: HCOE- Redwood Room (HERC ) and Hybrid from 4:30-6:30 pm
Math Workshop Sessions for All Registrants:
Mon 10/16 BIG Ideas and Mathematics Framework Intro
Tues 11/28 Math Concepts through Visualization
Tues 2/06 Selecting Tasks
Tues 3/05 Assessment and Feedback
Tues 4/09 Reflection/ Student work share out
One Cal Poly Unit available for purchase ($50) for those that attend all Math sessions
Shannon Morago, HCOE STEM Learning Specialist: smorago@hcoe.org
Mary Ann Sheridan, NCSOE Induction Program Coordinator: msheridan@scoe.org