← Back to Listings
Global Education Workshop: Sustainable Development Goals and Children's Literature
Date(s)
Tuesday, Nov 28, 2023
Sponsor
California Global Education Project and Humboldt County Office of Education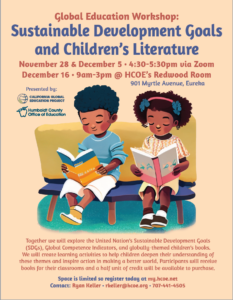 This workshop is for credentialed teachers with experience writing curriculum. Together we will explore the United Nation's Sustainable Development Goals (SDGs), Global Competence Indicators, and globally-themed children's books. We will create learning activities to help children deepen their understanding of these themes and inspire action in making a better world. Participants will receive books for their classrooms and a half unit of credit will be available to purchase.
Dates:
This is a face-to-face Saturday workshop, preceded by two brief virtual sessions.
November 28th and December 5th, 4:30-5:30 on Zoom
December 16th, 9am-3pm in the HCOE Redwood Room
Seats are limited so please register ASAP 
Register for this event
Registration is closed for this event.