← Back to Listings
English Language Development: Listening and Speaking – ZOOM
Date(s)
Wednesday, Jun 3, 2020
Presenter(s)
Cindi Kaup and Heather Richardson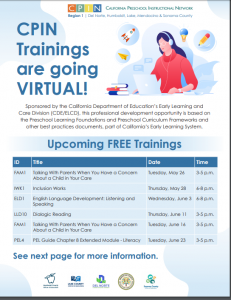 Observe, read, and discuss the developmental continuum for the Listening and Speaking strands from the English-Language Development (ELD) domain.
Discuss current research influencing the strategies in the Listening and Speaking strands.
Practice using the ELD foundations and framework to intentionally plan culturally and linguistically responsive routines and environments.
Handouts and resources will be emailed prior to the training. To register go to www.caregistry.org.