← Back to Listings
Early Childhood Project Based Learning Community of Practice
Date(s)
Saturday, Mar 4, 2023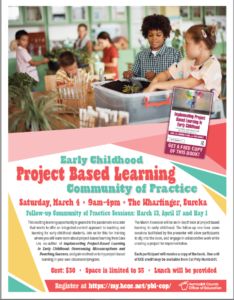 Early Childhood Project Based Learning Community of Practice Training will be held on Saturday March 4th from 9am-4pm.
Follow-up Community of Practice Sessions will be 1 hour sessions for design implementation and reflection:
$30 Registration Fee 
This exciting learning opportunity is geared to the passionate educator that wants to offer an integrated content approach to teaching and learning for early childhood students. Join us for this fun training
where you will learn more about project-based learning from Sara Lev, co-author of Implementing Project-Based Learning in Early Childhood: Overcoming Misconceptions and Reaching Success, and gain motivation to try project-based learning in your own classroom/program.
The March 4 session will be an in-depth look at project based learning in early childhood. The follow-up one-hour zoom sessions facilitated by the presenter will allow participants to dig into the book, and engage in collaborative work while creating a project for implementation
Each participant will receive a copy of the book. One unit of ECE credit may be available from Cal Poly Humboldt. Cost is $30 and space is limited to 35.  Lunch will be provided.