← Back to Listings
Crisis Prevention Institute's Nonviolent Crisis Intervention Open Refresher Training Course
Date(s)
Friday, Jan 14, 2022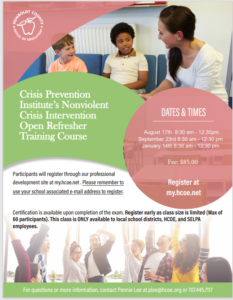 Participants will register through our professional development site at my.hcoe.net . Please remember to use your school associated e-mail address to register.
Certification is available upon completion of the exam. Register early as class size is limited (Max of 60 participants).
This class is ONLY available to local school districts, HCOE, and SELPA employees.