← Back to Listings
CPIN Professional Learning Series – Responsive Early Education for Young Children and Families Experiencing Homelessness ZOOM
Date(s)
Thursday, Sep 24, 2020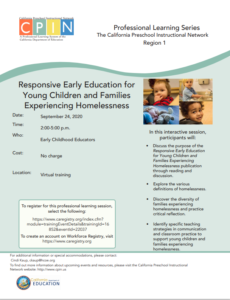 Professional Learning Series
The California Preschool Instructional Network
Region 1
Overview: Responsive Early Education for Young Children and Families Experiencing Homelessness
In this interactive session, participants will:
• Discuss the purpose of the Responsive Early Education for Young Children and Families Experiencing Homelessness publication through reading and discussion.
• Explore the various definitions of homelessness.
• Discover the diversity of families experiencing homelessness and practice  critical reflection.
• Identify specific teaching strategies in communication and classroom practice to support young children and families experiencing homelessness.
To register for this professional learning session, select the following: