← Back to Listings
California Elementary Literacy Conference "Everyone Has the Right To Read"
Date(s)
Thursday, Jun 16, 2022
Presenter(s)
Early Literacy Support Block Grant
Sponsor
California Department of Education & California Collaborative for Educational Excellence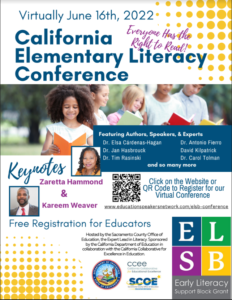 On June 16th, 2022, join educators and colleagues virtually from across California collaborating around evidence-based practices in early literacy instruction.
Keynote Speakers: Zaretta Hammond & Kareem Weaver
Also featuring Authors, Speakers & Experts:  Dr. Elsa Cárdenas-Hagan, Dr. Jan Hasbrouck, Dr. Tim Rasinski, Dr. Antonio Fierro, David Kilpatrick and Dr. Carol Tolman and so many more! The day will be filled with over 100 sessions.
Free Registration for Educators
Click on the Website or QR Code to Register for our Virtual Conference
www.educationspeakersnetwork.com/elsb-conference