← Back to Listings
Building Literacy Foundations: A Countywide Symposium
Date(s)
Wednesday, Nov 1, 2023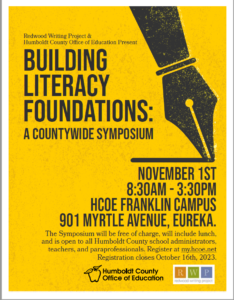 Humboldt County Office of Education  (HCOE) and Redwood Writing Project (RWP) are pleased to offer an exciting day of professional development for all Humboldt County educators on November 1, 2023.
The "Building Literacy Foundations: A Countywide Symposium" will take place from 8:30am-3:30pm at HCOE.  At the Symposium, we will offer 75-minute interactive workshop sessions focusing on literacy in three strands.
Symposium strands are:
Effective Reading and Writing Instruction;
Effective Intervention using Reading and Writing Strategies;
Science of Reading (SOR), (which will include a virtual talk by nationally recognized SOR expert Stephanie Stollar.)
Educators are encouraged to follow a strand, or mix and match between strands, according to their interests and needs.
The Symposium is being offered free of charge to all Humboldt County educators, and will include a free catered lunch.
One-half unit of Professional Development credit through Cal Poly Humboldt may be purchased by any educator who attends the full day.