← Back to Listings
2021 North Coast Redwood Forest Curriculum Series – 9-12 Place-based Curriculum for the North Coast
Date(s)
Thursday, Jan 28, 2021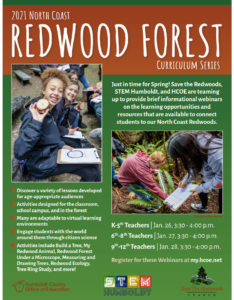 Just in time for Spring! Save the Redwoods, STEM Humboldt, and HCOE are teaming up to provide brief informational Webinars to inform educators about the learning opportunities and resources that are available to connect their students to our North Coast Redwoods.
January 28th, 3:30-4:00
9-12 Place-based Curriculum for the North Coast
Discover a variety of lessons developed for 9-12 grade learners

Activities designed for the classroom, school campus, and in the forest

Many are adaptable to virtual learning environments

Engage students with the world around them through citizen science

Activities include Redwoods and Climate Change, Measuring and Drawing Trees, Redwood Ecology, and Tree Ring Study 
PHOTOS by Max Forster and all students have signed a waiver for photo use.