← Back to Listings
Talking With Parents When You Have a Concern About a Child in Your Care – ZOOM
Date(s)
Tuesday, Jun 16, 2020
Presenter(s)
Cindi Kaup and Heather Richardson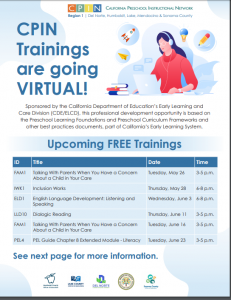 Provide a framework for caregivers when they have concerns that a child in their care might have a developmental delay, disability, or significant behavior problem.
Discuss how to share concerns with a child's parents or family members (anyone raising the child) and understand different ways family members will receive and act on the expressed concern.
Handouts and resources will be emailed prior to the training. To register, go to www.caregistry.org.
Register for this event
Registration is closed for this event.