← Back to Listings
Native American Studies Model Curriculum Update (K-12) and Lesson Demonstration
Date(s)
Tuesday, Sep 26, 2023
Presenter(s)
Maggie Peters & Rebecca Lowry
HCOE New Learning Specialists Maggie Peters and Rebecca Lowry will present at our first in person event of the new school year.
Peters and Lowry will also give an update on the NAS model curriculum project, a state-wide initiative to assemble educational resources on the diverse Native cultures of CA. The curricula and instructional support materials will be available on a website, hosted by UC Davis, by June 2025.  We encourage teachers to attend this update and share your professional development needs. We also encourage parents and youth to attend and share your thoughts about the content of these resources. 
Are you interested in learning how to use visual and literary arts to increase knowledge of yourself and others?  Maggie Peters and Rebecca Lowry will guide participants in such an activity, using the comic, "Where The Water Flows Strong," written by Chag Lowry with poetry by  Shaunna Oteka McCovey.  This comic features art by Weshoyot Alvitre and includes "pin up" art by Xatimniim Drake. Each participant will receive a copy of this comic, which was produced as a partnership between Original Voices and Save California Salmon.
The first 100 people to register will receive a copy of "Where the Water Flows Strong" by Chag Lowry at the event.
Facilitators
Maggie Peters is a Learning Specialist for the Native American Studies Model Curriculum at Humboldt County Office of Education.  She is Ner-er-ner (Yurok)  and Karuk, served as an educator/administrator for 16 years, practices traditional basket weaving and regalia making, and mother of three amazing children.  Maggie is the daughter of Chris Peters and Suzanne Burcell and follows in their footsteps of professional dedication to indigenous peoples.  Her educational philosophy is deeply rooted in culturally responsive teaching, trauma informed approaches, arts integration and team building.  She strives to build a foundation of growth mindset, self compassion, and empathy into educational practices in hopes to create safe learning environments where students can explore new lessons, eventually fall in love with learning and as a result, always open to diverse perspectives and communal support.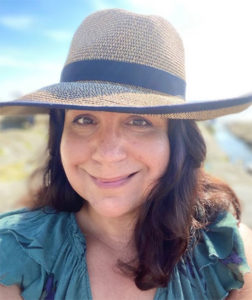 Rebecca Lowry is a Learning Specialist for the Native American Studies Model Curriculum at Humboldt County Office of Education.  She is Lenape, an enrolled member of the Delaware Tribe of Indians headquartered in Oklahoma. She has a BA in Literature and Writing from UCSD, an English teaching credential and a Masters in Social Work from Cal Poly Humboldt. Her professional background includes grantmaking in rural Native communities, education and clinical social work with children.  Her poetry was recently published by the Brooklyn Public Library, for the anthology, Lenapehoking. She wove a turkey feather cape, The Cape of a Matriarch, which was exhibited at the Brooklyn Public Library as well. She is passionate about early childhood mental health, teaching factual history and integrating arts in education as a means to teach world views. For the NAS model curriculum project, she is honored to support CA Native peoples as they determine the manner in which their cultures are taught.
Register Now!