← Back to Listings
Humboldt Teacher Network -Zoom
Date(s)
Wednesday, Jun 3, 2020
Presenter(s)
Ryan Keller, Rosie Slentz, and Janice Lourenzo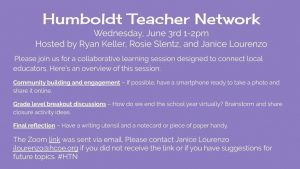 Please join us for a collaborative learning session designed to connect local educators. Here's an overview of this session:
Community building and engagement – If possible, have a smartphone ready to take a photo and share it online.
Grade level breakout discussions – How do we end the school year virtually? Brainstorm and share closure activity ideas.
Final reflection – Have a writing utensil and a note card or piece of paper handy.
The Zoom link was sent via email. Please contact Janice Lourenzo jlourenzo@hcoe.org if you did not receive the link or if you have suggestions for future topics. #HTN.