← Back to Listings
Cal Poly Humboldt Summer Filmmaking College Class
Date(s)
Monday, Jun 20, 2022 - Thursday, Jul 14, 2022
Presenter(s)
Michelle Cartier, Vanessa Cota, Blanca Luevanos
Sponsor
Cal Poly Humboldt, TRIO Educational Talent Search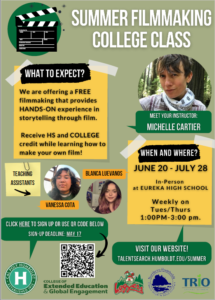 We are offering a FREE filmmaking class that provides HANDS-ON experience in storytelling through film.
Receive HS and COLLEGE credit while learning how to make your own film!
June 20 – July 28, In-Person at Eureka High School
Weekly on Tues/Thurs from 1PM to 3PM
Register with your smartphone using the QR code on the flyer!