HCOE/DNCOE Data Dashboards
Explore data visualizations that help tell your story.
Other Helpful Data Sources

The CA Schools Dashboard is California's accountability and continuous improvement system, which provides information about how local educational agencies and schools are meeting the needs of California's diverse student population.  In addition to the CA Schools Dashboard, Humboldt and Del Norte Counties are collaborating to provide public and private dashboards using data provided to the CDE to give insight to the opportunities and challenges we face as a rural county.  Our goal is to create an environment where improvement-based conversations can center around common data sources which provide actionable results.
The state and local indicators are organized into three categories:
Mathematic and ELA Academic Performance Indicators
The Academic indicator for Math and ELA are based on the Smarter Balanced Summative Assessment results and the California Alternate Assessement (CAAs), and applies to LEAs and schools with grades three through eight and grade eleven. Participation Rate:  LEAs, schools and student groups that have 11 or more students enrolled during the testing window will have the participation calculated for both ELA and Mathematics. Distance from Standard:  LEA's, schools and student groups that have 30 or more students continuously enrolled will have a Status, Change and a performance level (color) for this indicator.
View the CAASPP Mathematics Report for the CA Schools Dashboard
View the CAASPP ELA Report for the CA Schools Dashboard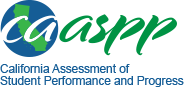 View the Cohort and Grade-Level Dashboards created from the CAASPP assessment research files
(note:  these are NOT CA schools Dashboard aggregates)
College and Career
The College/Career measure shows how well LEAs and schools are preparing students for likely success after graduation.
Chronic Absenteeism
The California Department of Education created the Chronic Absenteeism Indicator, which is a metric indentified as a part of Priority 5 (pupil engagement) under the LCFF.  All LEAs and schools with students in grades kindergarten through grade eight and have 30 or more students who are eligible enrolled (enrolled at least 31 instructional days) in kindergarten through grade eight in both the current and prior years will receive a performance level (color) for this indicator on the CA Schools Dashboard.
Suspension Rate
California School Dashboard Navigator
by the CA Dept. of Education
The California School Dashboard Navigator is an interactive mapping tool for visualizing school and student group performance on a map that displays schools by their color-coded performance level for each of the state indicators and student groups. Users can target their searches by specific geographic areas and refine their searches using a set of interactive charts. Information on how to use the tool is provided in the Navigator How-To Guide and in the FAQs.
To view a full-screen version of this visualization, click here.
CAASPP Performance by District
by Ronda Stemach, HCOE & DNCOE
This dashboard uses county and district filters to compare ELA and MATH performance between a selected district and the state.  Scores are grouped by levels one and two (standard not met or nearly met) contrasted with levels three and four (standard met and standard exceeded).  These data are displayed by test and grade, and the filters at right enable you to toggle between ELA and MATH and to select a grade.