Save the Date!
The 2018-19 Battle of the Books event for grades 4-6 will be held
April 12th, 2019 at the Sequoia Conference Center.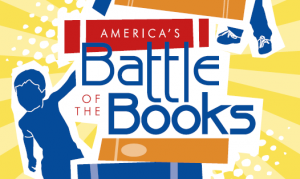 Schools are invited to bring participants rather than teams.
One of the most valuable features of this event is the opportunity for students to collaborate with their peers.  Instead of competing between schools, students will be placed in mixed teams on the day of the event.  This will allow us to be more inclusive of our smaller schools and grant more flexibility and fairness with team sizes.  It's also a wonderful opportunity for kids to make new friends who share the love of reading across Humboldt County!
Students participating in the county Battle are required to read at least 15 books from the list by the time of registration.
Site leaders should work with students to get them prepared by the registration deadline on March 29th.  There is no restriction to the number of students you bring, but we urge you to give priority to students that invest the time and effort to read throughout the year, and who work well with other students.  As in prior years, sample questions will be shared prior to the event for practice. The "Standard 30" 4-6 Reading Lists for this year can be found on America's Battle of the Books website.
Check out this handbook for schools for more details on the event.
If you are interested in participating or learning more about the event, please complete this short interest survey or contact Ryan Keller (rkeller@hcoe.org) with questions.