← Back to Listings
Trauma Informed Practice Module 100 Session III
Date(s)
Monday, May 2, 2022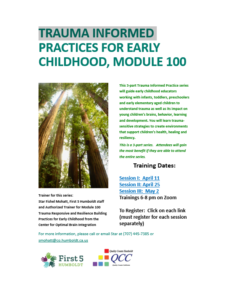 This 3-part Trauma-Informed Care series will guide early childhood educators working with infants, toddlers, preschoolers, and early elementary-aged children to understand trauma as well as its impact on young children's brains, behavior, learning, and development. You will learn trauma-sensitive strategies to create environments that support children's health, healing, and resiliency.
This is a 3 part series. Attendees will gain the most benefit if they are
able to attend the entire series.