← Back to Listings
Science Adoption Workshop With Pivot Learning
Date(s)
Thursday, Mar 7, 2019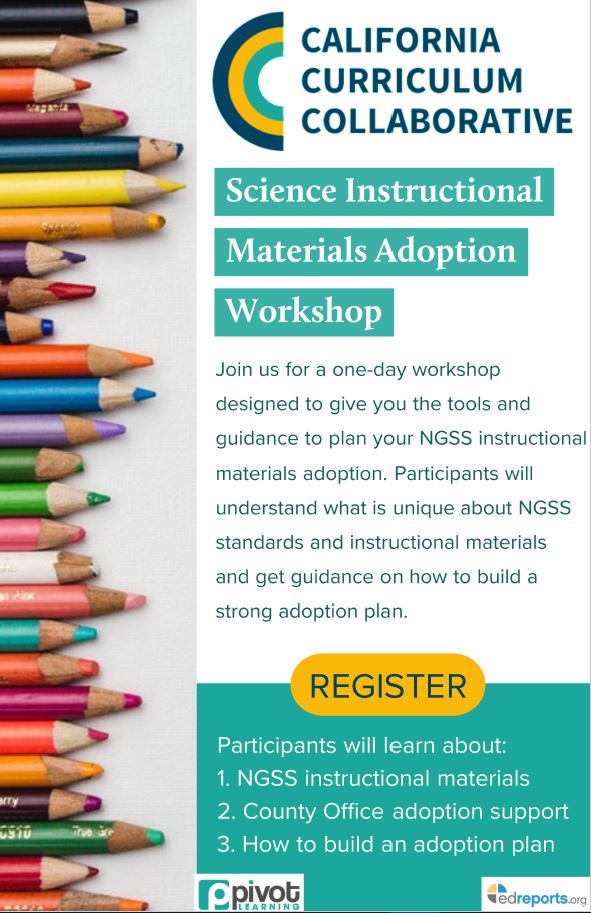 Join us to learn more about NGSS and to get guidance on creating your District Lens for the adoption process for Science instructional materials.
Who should attend? District administrators and science leads
March 7, 8am-3pm
HCOE Annex Room
AGENDA:
8:00-8:15am- Coffee and registration
8:15-8:45am-Making the Case for High Quality Instructional Materials
8:45-9:30am-What's Unique about NGSS Materials
9:30-10:30am-Defining Quality in NGSS
10:30-10:40am Break
10:40-12:00pm-Defining your context: Team, timeline, budget, adoption history, and data
12:00-12:30pm-Lunch
12:30-1:00pm Adopting Science Instructional Materials with NextGen TIME and a review of County Adoption Support
1:00-2:40pm-Working Session: Bulk your adoption plan (including: piloting, communicating with stakeholders and planning for PD)
2:40-2:50-Q&A
2:50-3:00pm-Close & Evaluation
Register for this event
Registration is closed for this event.