← Back to Listings
Patterns of Strengths and Weaknesses
Date(s)
Thursday, Mar 9, 2023
Presenter(s)
Jenny Ponzuric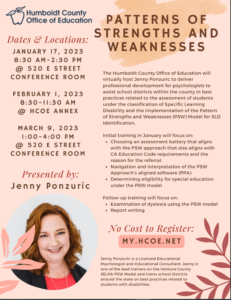 The Humboldt County Office of Education will virtually host Jenny Ponzuric to deliver professional development for psychologists to assist school districts within the county in best practices related to the assessment of students under the classification of Specific Learning Disability and the implementation of the Pattern of Strengths and Weaknesses (PSW) Model for SLD Identification.
Initial training in January will focus on:
Choosing an assessment battery that aligns with the PSW approach that also aligns with CA Education Code requirements and the reason for the referral
Navigation and interpretation of the PSW Approach's aligned software (PPA)
Determining eligibility for special education under the PSW model
Follow-up training will focus on: 
Examination of dyslexia using the PSW model
Report writing
Dates & Locations:
January 17, 2023 from 8:30am – 2:30pm @ 520 E Street Conference Room
February 1, 2023 from 8:30am – 11:30am @ HCOE ANNEX
March 9, 2023 from 1:00pm -4:00pm @ 520 E Street Conference Room
Jenny Ponzuric is a Licensed Educational Psychologist and Educational Consultant. Jenny is one of the lead trainers on the Ventura County SELPA PSW Model and trains school districts around the state on best practices related to students with disabilities. This is no cost to register.
Register for this event
Registration is closed for this event.