← Back to Listings
Latino Leaders Speak: Personal Stories of Struggle and Triumph
Date(s)
Saturday, Apr 1, 2023
Presenter(s)
Dr. Emily M. Schell and Barbara Doten
Sponsor
Latino Leaders Network, California Global Education & Humboldt County History-Social Science
Contact
Barbara Vallejo Doten
The Latino Leaders Network & California Global Education Project Presents: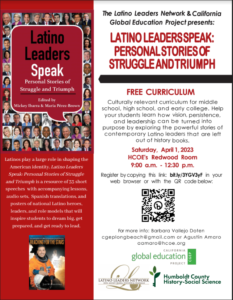 Latino Leaders Speak: Personal Stories of Struggle and Triumph
Free Curriculum
Culturally relevant curriculum for middle school, high school, and early college. Help your students learn how vision, persistence, and leadership can be turned into purpose by exploring the powerful stories of contemporary Latino leaders that are left out of history books.
Saturday, April 1, 2023 in the HCOE Redwood Room from 9am-12:30pm
Speakers will be Dr. Emily M. Schell and Barbara Doten
Register through this link: bit.ly/3YGV3yF or the QR Code on the flyer.
For more information contact: Barbara Vallejo Doten at cgeplongbeach@gmail.com or Agustín Amaro at aamaro@hcoe.org