← Back to Listings
Job Embedded Support -CCSESA
Date(s)
Friday, Oct 1, 2021 - Thursday, Jun 30, 2022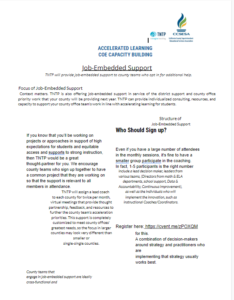 Job Embedded Support: Context matters. TNTP is also offering job-embedded support in service of the district support and county office priority work that your county will be provided thisTNTP can provide individualized consulting, resources, and capacity to support your county office team's work in line with accelerating learning for students.
Who should sign up?
If you know that you'll be working on projects or approaches in support of high expectations for students and equitable access and supports to strong instruction, then TNTP would be a great thought-partner for you.
We encourage county teams who sign up together to have a common project that they are working on so that the support is relevant to all members in attendance.
Even if you have a large number of attendees in the monthly sessions, it's fine to only have a smaller group participate in the coaching. In fact, a group consisting of 1-5 participants works well.
A combination of decision-makers around strategy and practitioners who are implementing that strategy usually works best.
Structure of Job-Embedded Support TNTP will assign a lead coach to each county for twice per month, virtual meetings that provide thought- partnership, feedback, and resources to further the county team's acceleration priorities. This support is completely customized to meet county offices' greatest needs, so the focus in larger counties may look very different than smaller or single-single counties.
County teams that engage in job-embedded support are ideally cross-functional and include a lead decision maker, leaders from various teams, (Directors from math & ELA departments, school support, Data & Accountability, Continuous improvement), as well as the individuals who will implement the innovation, such as instructional Coaches/Coordinators.
Register HERE
Fee per COE: $24,000
min 5 COEs / max 10 COEs