← Back to Listings
Inclusion Works – ZOOM
Date(s)
Thursday, May 28, 2020
Presenter(s)
Cindi Kaup and Heather Richardson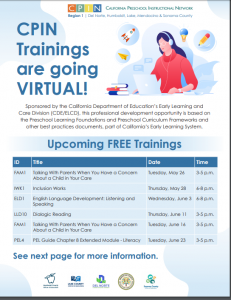 Define inclusive practice, describe collaboration, and share practical strategies.
Discuss the intended use in child care settings for children birth through age 12 years.
Review resources included in appendices as well as web-links on the MAP to Inclusion and Belonging website.
Handouts and resources will be emailed prior to the training. To register go to www.caregistry.org.
Register for this event
Registration is closed for this event.