← Back to Listings
HERC Resource Orientation
Date(s)
Tuesday, Sep 19, 2023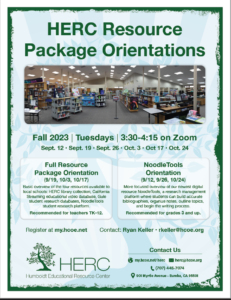 If your school has signed up to access the resource package from the Humboldt Educational Resource Center (HERC), these orientations are for you!
There are two options available, each with multiple dates to choose from:
HERC Resource Full Package Orientation
Basic overview of the 4 resources available to local schools: HERC library collection, California Streaming educational video database, Gale student research databases, NoodleTools student research platform. Recommended for teachers TK-12.
Dates: 9/19, 10/3, 10/17
NoodleTools Orientation
More focused overview of our newest digital resource NoodleTools, a research management platform where students can build accurate bibliographies, organize notes, outline topics, and begin the writing process. Recommended for grades 3 and up.
Dates: 9/12, 9/26, 10/24
Following your registration, you will receive the link to access this Zoom-based training shortly before your training.