← Back to Listings
Free Professional Development Summer Courses
Date(s)
Tuesday, May 16, 2023 - Monday, Sep 4, 2023
Sponsor
Cal Poly Humboldt & Redwood Coast K-16 Educational Collaborative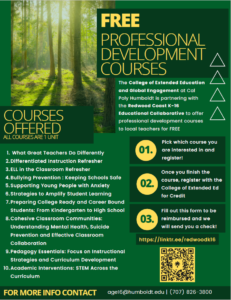 COURSES OFFERED ARE 1 UNIT
The College of Extended Education and Global Engagement at Cal Poly Humboldt is partnering with the Redwood Coast K-16 Educational Collaborative to offer professional development courses to local teachers for FREE!
What Great Teachers Do Different
Differentiated Instruction Refresher
ELL in the Classroom Refresher
Bullying Prevention: Keeping Schools Safe
Supporting Young People with Anxiety
Strategies to Amplify Student Learning
Preparing College Ready and Career Bound Students: From Kindergarten to High School
Cohesive Classroom Communities: Understanding Mental Health, Suicide Prevention and Effective Classroom Collaboration
Pedagogy Essentials: Focus on Instructional Strategies and Curriculum Development
Academic Interventions: STEM Across the Curriculum
1. Pick which course you are interested in and register!
2. Once you finish the course, register with the College of Extended Ed for Credit
3. Fill out this form to be reimbursed and we will send you a check!   
FOR MORE INFO CONTACT age16@humboldt.edu | (707) 826-3800