← Back to Listings
Culturally Responsive Self-Care for those Working with Young Children: Part 2
Date(s)
Monday, Feb 8, 2021
Presenter(s)
Mary Anne Doan, Julie Nicholson and LaWanda Wesley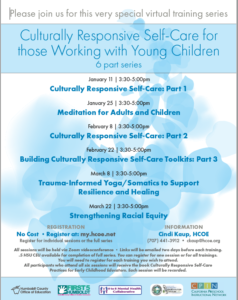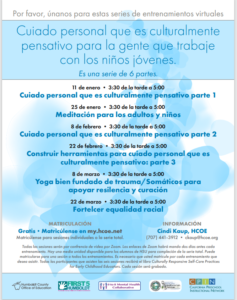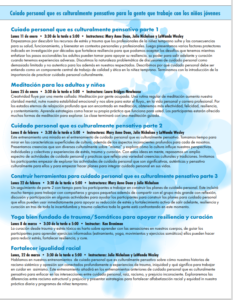 Culturally Responsive Self-Care: Part 2
Monday, February 08 | 3:30-5:00pm | Trainers: Mary Anne Doan, Julie Nicholson and LaWanda Wesley
This training takes a deeper dive into understanding culturally responsive self-care. We take time to look at surface characteristics of culture as well as deeper unconscious aspects of culture for each of us. We introduce culturally diverse beliefs about the 'self' and explore how culture influences our individual and collective perceptions and experiences of stress, trauma and healing. With these ideas in mind, we review a wide range of self-care activities and practices that reflect a diverse range of cultural beliefs and traditions. We invite participants to begin exploring the self-care activities that are meaningful, authentic and culturally responsive for them and to begin to make plans for intentionally integrating self-care into their daily lives.
Register for this event
Registration is closed for this event.