This year CUE North State affiliate was established; it includes Del Norte County east to Modoc, Humboldt County east to Lassen, Mendocino County east to Plumas and Lake County, (truly North state.)
Get aboard the CUE train!
Cue is no longer a specialized group of computer using educators, CUE is for ALL educators.  CUE is a provider of professional development: CUE conferences and Rock Star camps. The Fall CUE, and Annual Conference in Palm Springs provide a plethora of workshops in how to integrate technology in common core.  Thousands of teachers gather for 3 days to learn from very talented and innovative instructors.  There is something for everyone, Kindergarten through High School. There are so many choices, workshops include: iPad Academy, Google Apps, Coding, Project based learning, YouTube curating and creating, Robotics, STEM learning, Digital Citizenship, Gamification, Flipped classrooms, Tech Tools for Writing, and Math, Chrome Apps and extensions, Blogging, Student portfolios, Hyperdocs, Global collaboration, Makerspace and much more.
Rock Star Camps are a little different in that they are small, maybe 150 participants, with a 10:1 student/teacher ratio.  There are only two workshops a day, giving you time to practice what you have learned.  Yes, that is what I said, time to practice!  I love Rock Star Camps and they are popping up everywhere! Now, there are new specialty Rock Star Camps: a STEAM edition, Math Edition, Admin, TOSAS and a Black Label Edition (private for your district.)
CUE is a place to grow your professional learning network, the connections you make at CUE venues with other educators are invaluable.  CUE is also a place of legislative advocacy. Check it out:
http://www.cue.org
As a member you get discounted registration fees at the Fall Conference in Napa and the Annual Conference in Palm Springs, and an annual subscription to OnCUE magazine.  It costs only $40. annually to join.
"The future really does lie, I think in the work of groups like CUE…"   Sir Ken Robinson
It is an exciting time in education, a time of technology integration.  Get on board the CUE train Whooo-whoooo and learn how we can effectively use technology to enhance our teaching and student learning.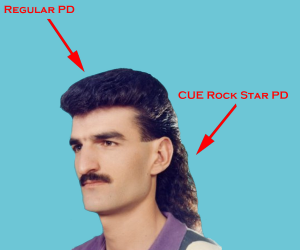 This summer, Crescent City will again host a Rock Star camp on August 2-4!  It is a funtastic opportunity to learn from motivating teachers.  This year Jon Corippo, creator of Rock Star camps will be in Crescent City.  Mark your caIendar and buy your ticket.  I'll be there and I hope to see you there too.
@crivelli_carol